How the story of these two gay dads to a pig is hard to miss this Pride
Author :-
Nimisha
June 21, 2020, 7:02 p.m.
Featuring on Tickle.Life's LGBTQ Hall of Fame this week are Derek Walter and Steve Jenkins, fathers to Esther the Wonder Pig.
Steve Jenkins and Derek Walter, the founders of Happily Ever Esther Sanctuary and fathers to Esther, had no idea what they were in for just a few years ago.
The gay couple, who live in Ontario, Canada, had no clue that a micropig that they adopted would end up 10 times bigger. Little did they know that this pig, who could have ended up on someone's plate, would change their fate and lives forever.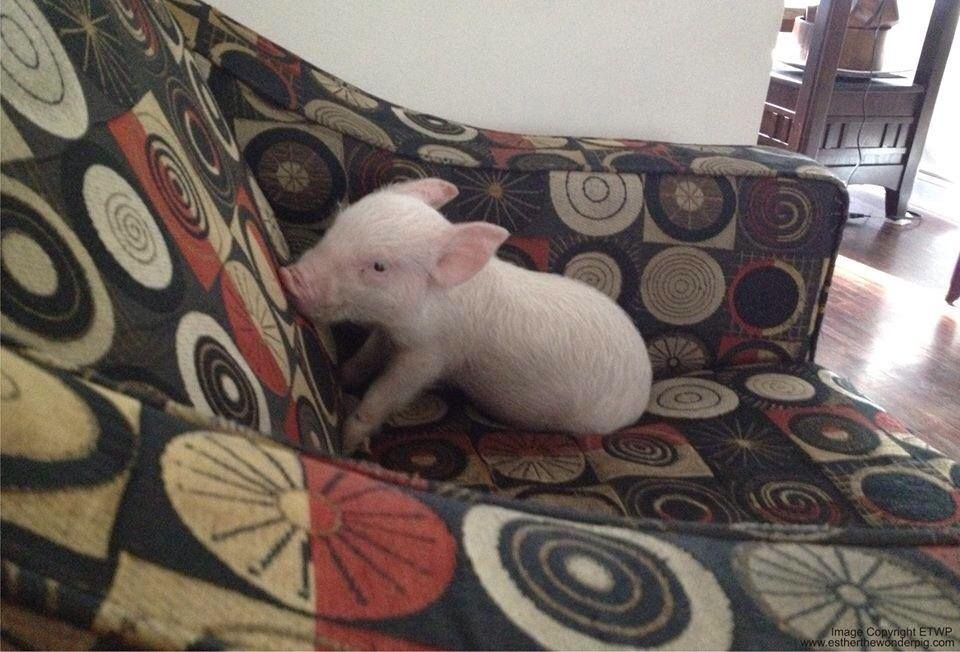 Their story is a wonderful one of acceptance, love, and being "kind to all kinds".
Once they got her home, they were in for 8 months of confusion and chaos. About a month since Esther arrived, their vet alerted them that Esther may not be a micropig as claimed.
"It was all speculation, at first," says Derek in an interview with Kickass Canadians Podcast. "The vet pointed out that Esther's tail was cut, which no breeder would ever do, and she also had a scar that was consistent with spaying. Esther went off the growth chart page immediately. At our next vet visit, she was about 60lbs, and we still were holding onto the fact that she might just be a big girl."
Fatherhood and Esther
By the time they realised how quickly Esther is growing, they were completely in love with her. On their Facebook page, they have detailed how much of a re-arrangement they had to go through to accommodate Esther's needs, and how many times they were on the verge of giving up.
As any loving father, they ended up creating a page for Esther in 2013. What was supposed to be a simple chronicling of their daily lives ended up with millions of followers very quickly.
They realized the potential for change that Esther had, to make people think of her kind as friends not food, and to change the relationship of people with animals as living, sentient beings, and not products and commodities for consumption.
On dealing with homophobia and opening a farm sanctuary
In 2014, Derek Walter and Steve Jenkins had raised enough money through their fans to open the Happily Ever Esther Farm Sanctuary, for abandoned and rescued farm animals.
But it has not been a completely positive and encouraging ride, and they have received many negative mails about their relationship. They however, did not bow down to the pressure.
"If they are followers, they've obviously missed something, as they aren't getting the message. Because, despite their opinions, at the end of the day, we'll still be gay," said Walter.
He added, "We have heard from parents who say that they were able to show their child that it was okay to have same-sex parents, that 'Esther has two dads too."
Looking forward
Esther and her dads are getting a featured film! The film will be tracing their live story, the journey of their activism as vegans, and Esther's life with her best friends, Phil the pittie and Corno the Turkey!
Mark Ross will oversee production on behalf of CBS Films.
They have also co-written and released a book, Esther the Wonder Pig, which follows the adventure of these dads in embracing fatherhood to Esther and becoming animal advocates as well as LGBTQ+ rights.
While Esther, and many other animals have merry lives, they are also testimony to what can be of the world if we open ourselves to revise our choices.
They also have an Esther's kitchen that features delectable recipes which are "Esther approved", their own unique term for plant-based.
For all the updates on Esther and her dads, you can check out their website, https://www.estherthewonderpig.com/
You can also follow them on Facebook and Instagram.
---
Photo by Esther the Wonder Pig/Instagram.